Hedonism Wines is a "wine store" in London, UK. Why do I write an article on a wine store? What is so special about this one? Continue reading and you'll want to go to Hedonism Wines, too!
Visiting the paradisiac Hedonism Wines in London
Just days ago I read an article on LinkedIN about the european wine capital, which formerly was Paris until some day. The new European wine capital shall be London, they say.
Lucky me, I have been in London just two weeks ago between the 25th and 29th of December 2017, which made me write this blog.
Why going to London?
Okay, I must confess I haven't been to London until then, so this already is a good reason, even though Big Ben is still wrapped up and the weather still isn't that sunny. But beside the loads of sightseeing attractions, London offers a wide range of delicious places. From tiny food places to three star restaurants, lovely places for the compulsory but wonderful afternoon tea to some of the worlds most exclusive wine places.
So, after hopping off one of these tourist boat trips down the Thames, we followed the recommendation of a friend and some instagram guys this morning to visit the wine store, let's say wine boutique, Hedonism Wines. 
"They have a room full of Montrachet and stuff like that."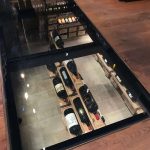 "Go check the big bottles." "It's incredible." "You will leave completely stunned!" That's what they said.
So we grabbed an UBER and 15 mins later we stood at 3-7 Davies St. Mayfair. The first thing I saw when we entered the boutique was a big window in the floor, which allows you to take a look downstairs – on a 27 Liter bottle of Castillo Ygay Gran Reserva Especial 1995 de Marques de Murrieta. A monster bottle!
After I made to break my look off the Castillo Ygay, a young guy welcomes us and asked if we could need some help. "If you ask like this, I need this 27 Liter bottle of Rioja to throw a big dinner, mate!", I thought.
On the ground floor, they present all types of white wines, champagne and spirits. Rows on rows on rows.
If you think of any place you can call paradise, this one is really close to it. Dom Perignon P2 1990 Magnums – my vintage – just standing around there next to Cristal from the 80's, Dom Ruinart Maggys, Krug Vintage Maggys and and and. HUGE!
Next to it the whites from overseas, Burgundy all you can drink (and store), German and Alsace Riesling, sweet wines from France and Germany, natural stuff from the Jura, white Tondonias – this is really impressing! And, all of them, really reasonably priced, when you think of the fact that you hardly get these wines anywhere else.
At the end of the room, there is a humidor. That's this "room full of Montrachet and stuff like that." Entered – fell in love. Dang!
These guys here aren't playing any kind of games. They are serious as hell with what they are doing!
The left side of the humidor was – indeed – full of white Burgundian beauties. DRC, Coche-Dury (down to the 90s), Ramonet, Raveneau, Leflaive, Jardot – yep, you name it.
The other side of the room wasn't that bad, too. Champagne. Champagne everything! But forget what you saw before. This is benchmark level. Dom Perignon with crests of all colors. P2 down to 1970. P2 Maggys of 1990. P3 Maggys down to 1966.
Krug Clos de Mesnil down to 1982 plus a bottle Clos D'Ambonnay from 1998. Old Cristal, Salon, Comtes de Taittinger Rosé, Dom Ruinart – yep, you name it. Again.
Red wine? Yes, please.
At this moment I already was totally stunned by what I saw. This place made my heart go faster and faster. It was kind of visiting the sports store as a child to find a new pair of football shoes – super excited!
Then I realized that I have not seen one single bottle of red wine – just this tiny Castillo Ygay.
So, down the stairs and finally to heaven. On the last five steps you are escorted by a row of about 20 vintages of Masseto, down to 1990. That's really a warm welcome down here! Passing a wall of half bottles – from different Mosel Auslese to Lafite Rothschild 1982 – there was this thing. This wall. White and gold. Topped by two words. Chateau D'Yquem. This was so sexy. As you may know, this stuff ages fantastic, that's why you can store it years and years. And the oldest one in here was from 1894. Bottled History!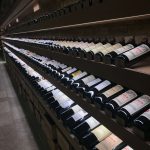 If you are able to get off that wall, you turn around about 180° and have ten rows of red burgundy wine. Anything you need, anything you want. On the right wall is a huge rack (not sure if allowed to call something like this a rack). And it's topic is Bordeaux. So, you can just walk by and see the bottles of Petrus, Le Pin,  Cheval Blanc, Lafite, Latour (down to 1933), La Mission, Haut Brion (down to 1931), Mouton, GPL and so on, in-between have a look left to see some Clos de la Roche and Echezeaux walk by before you finally stop at the big bottle section. And the benchmarks just don't want to stop. 1982 Mouton Rothschild from the Jeroboam. Mh, okay. That's a good bottle. I guess. 
Hedonsim treats their wines with respect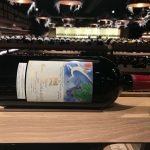 The funny thing is: the most impressing stuff is still to come. But before that, let me say something about Hedonism Wines. The location, the atmosphere, the passion within this walls. Without any doubt this place is top notch for wines worldwide. But it's not that they just have these wines for sale. It's how they present them, what kind of customer experience they create in here. It is totally quiet so that you can focus on all these beautiful bottles. The way they have arranged all the racks to present the wines, the idea to install humidors – well, not just humidors, showrooms! – the way they present the collection of Chateau D'Yquem – they treat these amazing bottles with holy respect, so much love for the details and do the really best they can to make it a surrounding that is worth to present these wines. So, the name Hedonism Wines really is on the agenda in here. You are surrounded by hedonistic beauty. Anything here strives for joy, pleasure and just the best things in life. Brillant!
Okay, back to the journey through the land of milk and honey. After passing the new worlds reds with a collection of Penfolds Grange, Dominus, Ridge and so on, there were two spots left in here. Meanwhile, I was really thirsty, why I thought of rocking the enomatics first, but no. There were some niches left at the end of the room. One was full of Domaine de la Romaneé-Conti (DRC) – there aren't too many places to buy a full box! One is full of Screaming Eagle, which are some of the most expensive wines at Hedonism. And then, there it was. Hedonism Wines sells the whole collection of Chateau Mouton Rothschild from – wait for it – 1945 to 2014. The price tag of course is pretty heavy in total numbers, but where do you get the chance to buy this?! Every bottle up from the "Anneé de la Victoire", maybe the best wine ever made?!
My face wasn't able to do anything but smile. This IS Heaven in here. Would be a pleasure to work here for some time, to learn, to see these wines come and go and bring the experience I had to others. 
Finally, let me try some wine!
Now, after all, I am really thirsty. And what is better to close such a visit with some amazing wines!? Let me get into those just shortly:
Starting with a lovely 2009 Chablis Grand Cru, I decided to pick the Solaia 2009. Perfectly ripe fruit, coffee, mint and chocolate. On the palate, super juicy and delicious. Young and pushing forward, while smooth on the palate with a long finish.
Next is the Masseto 2002. Still young, plums, cherries and olives, a touch of balsamic and tobacco on the nose. The palate is well structured, good balance, tannins are so smooth and the mouth feeling is silky. Long, smooth finish.
The Chateau Montelena Cabernet Sauvignon from 1999 follows. So fresh, full of dark fruit, smoked meat, earthy notes, some tomato, smooth tannins, a vital acidity to make it a wine for 10 more years.
Finally two guys left from which I take a double dose (0,1). Petrus 1978 first. I had this one two months ago off a double magnum bottle and it doesn't deliver very well. So I would give it another try. This one had some fruit left in opposite to the bottle two months ago. But this one is still full of leather and earthy notes, which are dominating the wine completely. The palate is smooth and silky, the finish one a same level than before, earthy and long (>40 sec.).
Finally, Cheval Blanc 1964, a huge vintage for Cheval Blanc. Brown in the glass, nose is a bit restrained first, then earthy and meaty tones, spices, black truffle and wet forest floor, old leaves, mushrooms and a hint of fruit. On the palate perfectly round and smooth, good acidity and super soft tannins. Perfect to drink now. The finish is spicy with mushrooms and extra long (>60 sec.)!
Hedonism Wines. You changed me. I will come back this year – no question.
This is what a metropolis like London needs, and what it deserves. 
About Hedonism Wines:
Established: August 2012
Kind of Location: Wine Boutique
Stock: 6500 Wines, 3000 Spirits
Location: 3-7 Davies St, Mayfair, London
Opening hours: 10:00-21:00 Monday-Saturday (12:00-18:00 Sunday)