In Alsace the clocks go slower than elsewehere. Well, at least it seems like that if you are visiting these beautiful small towns, which remind me on towns in fairy tales like Harry Potter or so.
Famille Hugel is family owned since 1639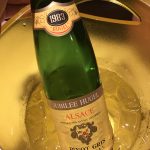 Riquewihr is one oft those lovely places. Strolling through it's main street you will find a tasting room on a corner, branded by the owning family – Famille Hugel.
This domaine is one of the oldest wineries you can think of and established back 1639 by Hans Ulrich Hugel in Riquewihr. As one of the most popular wineries in Alsace it is well known worldwide for it's wines and a still is a drobbin for Alsace wines in every part of the world. The family cultivates more than 25ha and holds parts of the best vineyards around Riquewihr, including Grand Cru vineyards like Schoenenbourg and Sporen. 
A terroir thing!
Located in the north-east of france, Alsace is one of the most dry wine regions in whole france. That fact allows the grapes in the vineyard to ripe out perfectly, which helps producing wines of great quality. Beside that, the regions soil is kind of unique. As many regions show a single soil type or variation of this one soil type, the soil around Riquewihr is more like a puzzle. I was in the vineyard with the quiet but super passionated Jean-Frederic Hugel to have a look at the vines when he showed me the perfect showcase for their soil. Just between two rows of vines the soil switches from one to another, which allows the winemaker to produce wines with a wide range of characteristics. Hugel takes this factor as a challenge to make their wines as unique as possible – and their experience shows off!
Hugel is cultivating several grapes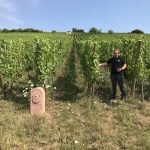 My first contact with wines from alsace was with the Gewürztraminer grape. Of course, Alsace is worldwide known for – among Riesling – growing this grape. But taking a deeper look into the grape variety of Alsace makes one thing clear: Alsace is multi-talented. And so is Famille Hugel. Beside Gewürztraminer they are cultivating – of course – Riesling, Pinot Gris, Pinot Blanc, Muscat, Sylvaner as white grapes and Pinot Noir as the only red one. The grapes are tailored to the given soil and climatic conditions.
Important to know: Most people don't think of white wines when it comes to great aged wines. Riesling may be an exception. Since I have been to Famille Hugel I know that there isn't just Riesling. Gewürztraminer and Pinot Gris age that well, too! We had several older vintages (>1985) at the winery and they showed of beautiful. So, if you ever have the chance to try some older vintages of Pinot Gris or Gewürztraminer – go for it!
The Tasting Room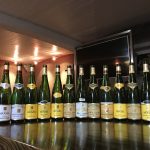 The public tasting room invites for having one, two or more sips of their wines in a unique traditional surrounding. Today it is hosted by Jean-Frederic Hugel himself. The great stock of wines, even from old vintages, makes it possible to taste both the actual vintages as well as older vintages, e.g. of the Hugel Gewürztraminer , which age so well. 
The wines of Famille Hugel
Hugel "Gentil" 
Famille Hugel Classic 
Famille Hugel EstateHugel TraditionHugel Jubilee
Schoelhammer
Famille Hugel Vendange TardiveFamille Hugel Sélection de Grains Nobles
Facts:
Name: Famille Hugel
Since: 1639
Size: 25-30ha
Grapes: Riesling, Pinot Gris, Pinot Blanc, Muscat, Sylvaner, Pinot Noir
Vineyards: Schoelhammer, Schoenenbourg, Sporen
Hugel & Fils
3 Rue de la Premiére Armée 
68340 Riquewihr, France